Back to all posts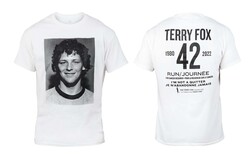 We will be holding a Terry Fox Run on Friday, Sept 23. Classes will be lining up in our big field on the east side of the hockey rink (between the rink and the parking lot) at 2:35 and we plan to start the run at 2:45 pm.
There will be a special treat from School Council & FAHHE for students at the end of the run. 
Parents, you are invited to come run (or walk) with us! You can line up with your child's class. They will be lined up from oldest to youngest. 
A quote from Terry Fox: To me, being famous myself is not the idea of the run, and it wasn't from the very beginning. To me, the only important part is the Marathon of Hope."
Homerooms will be collecting toonies for Terry on Thursday and Friday. Thank you for your contribution to this worthy cause.