Back to all posts
Posted on
Proposed School Fees - 2023-24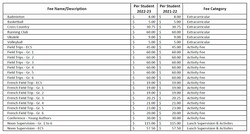 At our School Council Meeting on January 11, 2023, we discussed school fees for the 2023 - 2024 school year. Click image to see a larger version - you can see what our fees have been for last two years. 
It is important we get as much input from the school community as possible. Please use this google form to share your thoughts, concerns and ideas regarding school fees for the next school year.
School administration will use feedback provided to help determine fees for 2023-24, which will then be shared at the March school council meeting, will be posted to our website and will be shared through email.
Notes about Proposed Fees:
Extracurricular and Activity Fees (Field Trip)
Fees on the current school fee schedule will be the same for next school year.
What is involved in establishing extracurricular and field trips fees

registration costs (admission)
contracted bussing costs

Some field trips require deposits at time of booking and there is no option on this.
French Activity Fee (Field Trip)
Plan to decrease the Grade 3 to 6 cost to $19. We would like to have consistency throughout our French immersion programming.
In reviewing the costs of this field trip, we can allow for this decrease.
Conference Young Authors
Strictly registration cost for this conference. No bussing fee comes into play as this is held on the weekend.
Noon Hour Supervision 
8 noon hour supervisors
This fee is to cover 1 hour of wage for our classified staff.
We are allowed to calculate games and sports equipment in this fee but chose not to. As a school, we cover the replacement costs of games and sports equipment for the students.
Heritage Hills Elementary opened for the 2020-21 school year and our fees have remained the same. We recognize that some families are not doing as well as others and we are here to help our school community as best as we can.